abbreviation
Left hand/palm
round39

A marker is removed,Place the next 3 stitches on hold on scrap yarn,cast on 1 stitch(increase),k6,pm
round46

remove a marker,k2tog,ssk,k2tog,ssk
Finally,it is 4 stitches. cut the yarn and fasten off :-D
It's changed to a needle with small size.
The yarn used for a thumb is 20 inches.
It's done like knitting a joint of a right leg and a left arm at the beginning.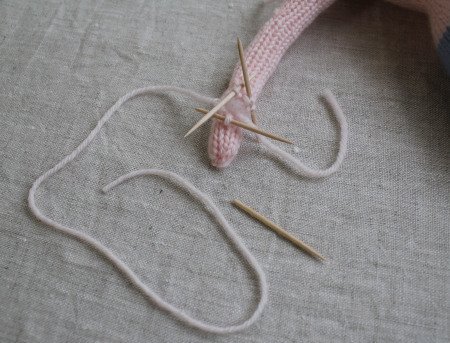 Distribute the 3 stitches from your scrap yarn onto two double pointed needles.(As a photo)
round1

Join yarn and pick up 1 stitch from co,k2tog(with the stitch<make one>which you picked with the left needle),k1,slip one knitwise(this stitch and the stitch made in the next ssk)
next, pick up one stitch from loop(make one stitch) Stitch is twisted,and it's to the right needle. You cover right stitch on the stitch you moved to the right needle. A thumb is 4 stitches.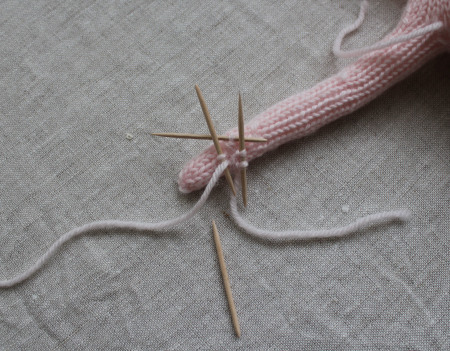 Finally, it is 2 stitches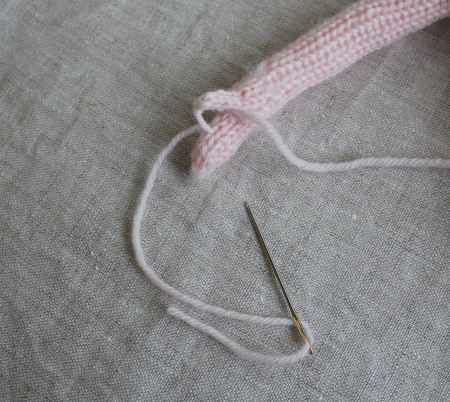 cut the yarn and fasten off,and a thumb is sewn on a palm.